Music for 18 things
dedicated to Steve Reich and the philosopher Luca De Pietri
Music for 18 things questions what we expect from people. Why the first thing we ask when we first meet someone is what do you do or which is your profession, establishing filters for our relation's environment.
"Without being musician or luthier, I decided to compose a musical piece to be performed by an orchestra with instruments I built in an unexpected way,  questioning also the way we expect things to be, not only the people. Getting closer to the absurd, I choose to be inspired by the masterpiece of someone I consider one of the greatest contemporary composers. Music for 18 Musicians by Steve Reich. In fact, I dedicate the work to him, but the work is not the music or the instruments. The work is the fact that I do something I'm not supposed to do." 
As in Reich's composition, pulse and breathing allude to time and life. The concert starts when a stethoscope with a built in microphone makes his heart play live on the speakers, as a metronome in the initial part of the work, which is divided into eight sections: pulse, breathing, growth, torment, chaos, harmony, breathing and pulse; drawing an endless circle across being alive, growing and the torment caused by the feeling that growth generates even more questions.
"Music for 18 things is full of significant elements in my life along the last decades. My expectations, my frustrations and achievements on what I have been doing, what I do and what I still want to do; questioning what we are, with more and more questions each second."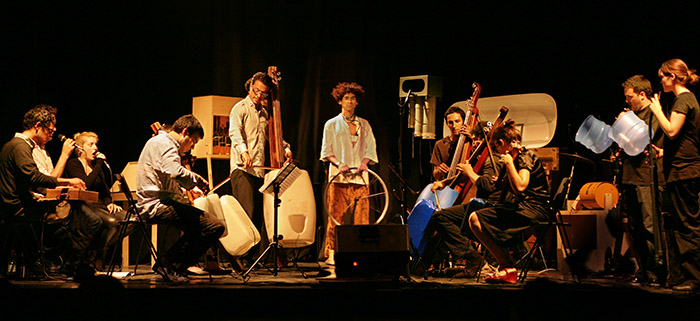 Play fragments of Music for 18 things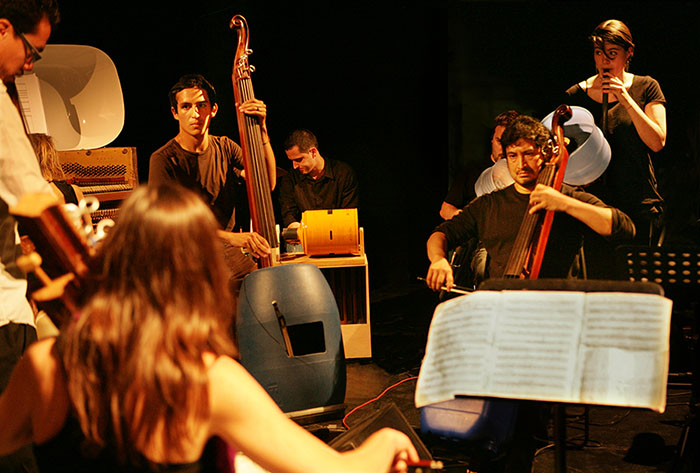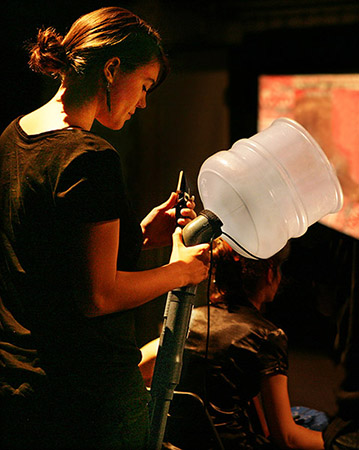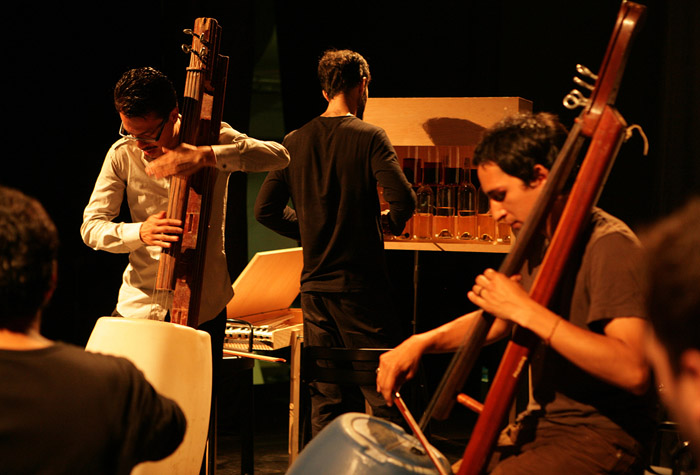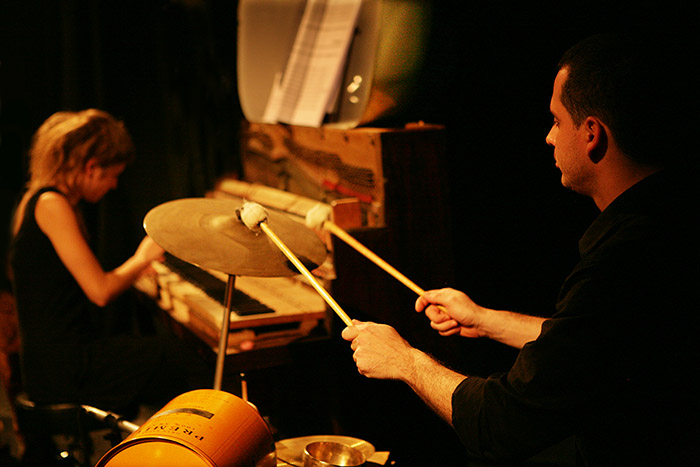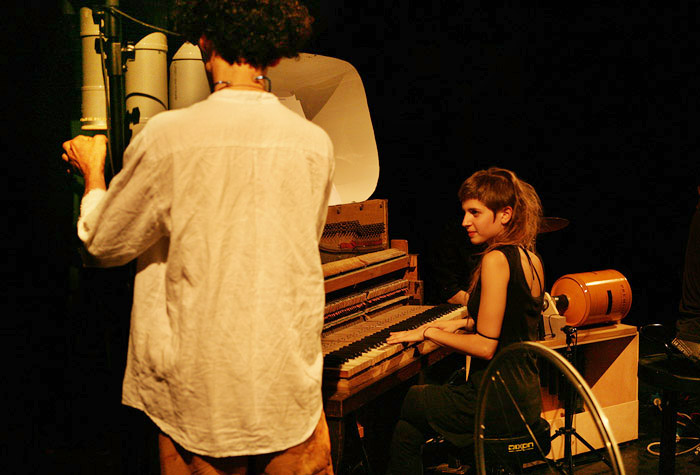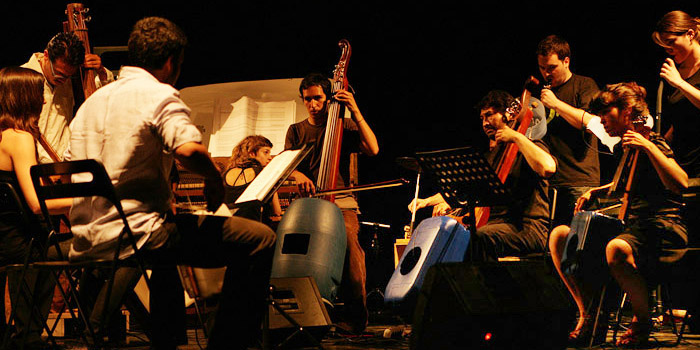 Music for 18 things had its première in June 2010, in Italy, invited by Artphilein Foundation for the event Il Corpo Violato.
With the support of

Requiem for 2 Basuróphonos

With the idea of a hypothetical future in which someone who had never seen musical instruments decides to build them, without technical knowledge and resources, Simoes built two instruments similar  to a cello and a double bass, with materials found in the streets of Barcelona, rubbish, basura in Spanish, hence their names, Basuróphonos.

The audiovisual installation, with images of mountains of wastes dally generated in the cities, is projected over a series of 3 paintings, 6 x 1,3 metres, that represents the emptiness we will leave someday with our absence.
Requiem for 2 Basuróphonos, is a dialogue between the instruments, a lament that turns around itself, in a piece that alludes to what we are doing... accelerating.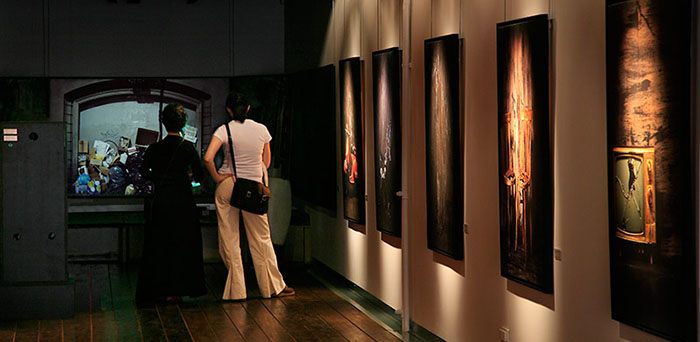 Requiem for 2 Basuróphonos had its première in 2006, in Switzerland, as part of the exhibition VERTIDOS, by Luiz Simoes. Later it was presented in Madrid, 2008 and Murcia in, 2009.
Eva, Adán y las cosas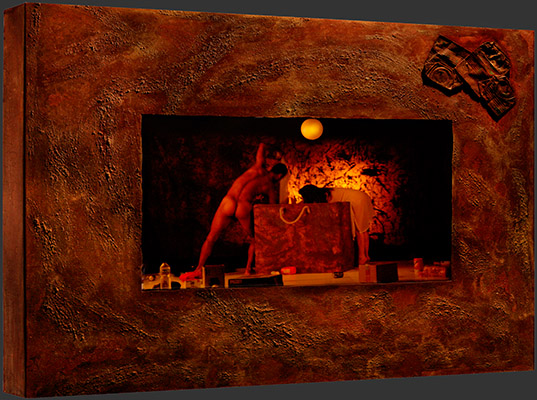 13 minute Video of a dance performance in which Eva (Sol Vázquez) and Adán (Bebeto Sidra) extract objects from a giant bag that metaphorically represents the earth.

Music for Basuróphonos gamba, mezzo and basso, female voice, percussion and handsaw, composed and performed by Ewa Wikström, Ivo Saint and Iván Lorenzana, directed by Luiz Simoes.
32 inches Screen, media player and oxidised iron. 13 x 90 x 120 cm.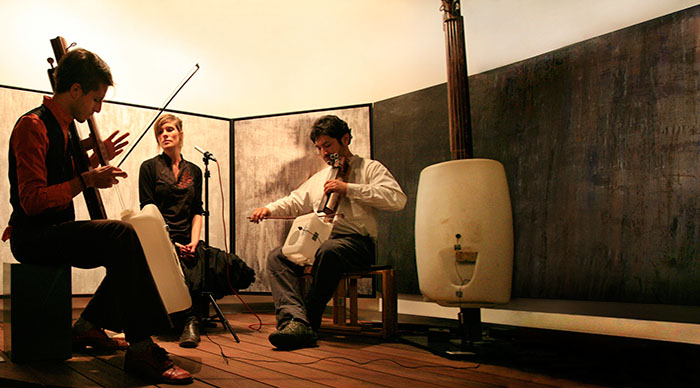 Play fragments o0f Eva, Adán y las cosas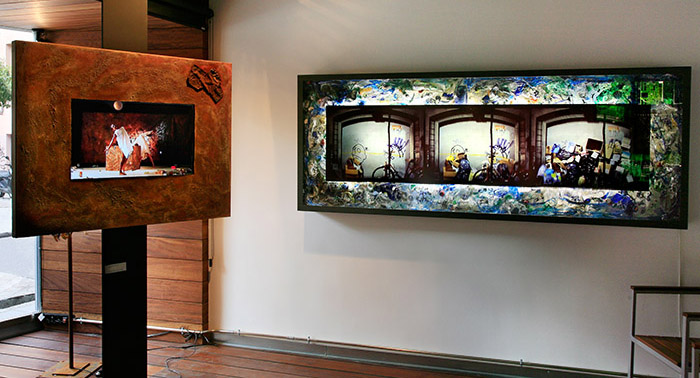 Eva, Adán y las cosas had its première the year 2008, in Madrid. In 2009, it was presented in The Havana Biennial with other works of the project Things, by Luiz Simoes.


With the support of

WE CHAT
Acrylic painting, iron oxide and hydroxide, piano and cello strings on
wooden and iron framed canvas. 200 x 105 x 7 cm.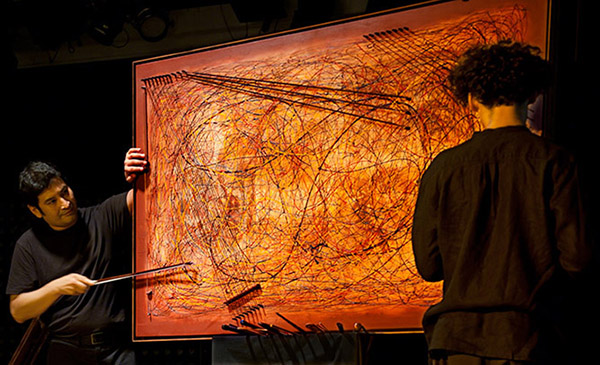 The first chat through the WE CHAT.